Advice from the Lake
Be clear – Make positive ripples – Look beneath the surface – Stay calm – Shore up friendships – Take time to reflect – Be full of Life!
Minutes from our latest Meeting
Couldn't make it to one of our meetings?  Find out what you missed in the Meeting Minutes Archive.
President's Message
by Kirk Meloney
kirk.meloney@gmail.com
Change…..In our life we see change happen in many ways. The change of the seasons, the change we live through growing older, and the change we see all around us as progress goes on. Life is forever changing, some time for the good and sometimes for the bad. But it's inevitable, change will happen and we must learn to accept it, embrace it and deal with it. This past year we've seen change happen on Lake Kanasatka. As most of you know the Maple Cottage property (formerly Fletcher's Cabins) was sold and subdivided and a major five lot subdivision has resulted in change at the east end of the lake. Now some of us were quite alarmed once we learned of it, which resulted in some of the membership and Board members banding together to question everything going on with the development. The membership and Board attended hearings, questioning the way the property was to be used and voiced their concerns. In particular, what will happen with the developed property and storm water runoff which directly impacts the lake. The property was already filtering a lot of runoff coming from the convenience store/ gas station and the Redding Lane area. The developer put forward a storm water plan which the Town of Moultonborough readily accepted and approved. Some of us took exception to the haste in which it was approved and in a Board decision we hired an independent engineering firm to review the plan. Our peer review revealed some inconsistencies with the data used. Once discovered, we called out the Town on our findings asking to reopen the hearing for further study. Unfortunately we were denied a rehearing, so we then took it to the developer directly with meetings face to face. We believe the developer wants to do the right thing. The town realized what they had gotten themselves into and hired an independent engineer to oversee the construction of the approved storm water plan. We have been engaged with this engineer. At the time of this writing we are hoping our peer review will have merit and the Town and developer will do the right thing. Only time will tell at this point but we remain steadfast with our charge to protect the Lake. Our water quality testing also revealed some major runoff saturation and pollution coming from the wetland lot on the same development. Most, if not all, of this pollution is coming from a brook running under Rt.25 in the area of Jennifer's Path, actually coming from the other side of Rt.25. This brook runs directly through Lot 5 of the subdivision. We pointed this out to the developer and even though it is not a result of the subdivision development the developer has said he will work with LKWA to try and solve this problem. This is very much on the LKWA radar and we are actively seeking steps to correct it. NH-DES, EPA, and other state and town agencies have all been contacted thanks to the hard work of Kevin Kelly. There will be more to come on this situation as time moves forward. I hope to report at our July annual meeting that we have made some good progress here. As your "acting president" this year I have enjoyed my role with the LKWA Advisory Board. I've written before that I never intended to become President while I was still working a full time job. However, I have such a great support team right now that I have decided to step into the President's role. That leaves a spot open on our board for a vice president position. I am really hoping to fill this position this year with someone who is willing to volunteer a bit of time to help protect our Lake. If there is anyone out there reading this who would like to become involved please don't hesitate to reach out to any board member or myself. It doesn't take a whole lot of time, and you'll be helping to protect Lake Kanasatka, a valuable resource for future generations to come. This is why I and the other Board members do it, and I know there are people out there that share the same passion as I do. They just need to step forward. Here's looking forward to ice out and getting back on the water. C'mon Spring….
Treasurer's Message
by Rob Baker  
rhbaker22@gmail.com
Membership growth in LKWA continues to set records, ending 2017 with 120 members up from 111 in 2016. This is the fifth consecutive year of annual membership growth. This membership support encourages the Board to continue to pursue its objectives which is the preservation of our natural resource, Lake Kanasatka. This year the Board authorized two large expenditures, the addition of lake monitoring test equipment which checks lake water quality in real time, the Board also hired an engineering firm to do a storm water peer review of the 253 Whittier Highway project formerly known as the Maple Cottage property. The Board has supported the efforts of Kevin Kelly (past LKWA president) who is doing his best, pursuing various avenues, to insure that this subdivision has limited impact on our lake. Storm water runoff from Rte. 25 and abutting properties have in the past affected water quality of our lake and any mitigation will be to our benefit. As a result of these expenditures our year over year combined assets are down $2,300, hence the need for your continued membership support. The LKWA Board appreciates your membership support and will continue work towards protecting the quality of our Lake.
Loon Nesting Data –
The
Loon Preservation Committee
offers a summary of loon nesting activity and nest raft use from 1975 to the present. The LPC is dedicated to sharing information about New Hampshire's loon population with the interested public. Though it is generally unable to accommodate requests to distribute monitoring data on individual lakes, this report is an exception and has been provided by the LPC to us on a trial basis. See the
Loon Nesting report here
Lake Kanasatka Water Quality 2017
By Lisa Hutchinson lisahutch@comcast.net
In March we received the 2017 Water Quality Monitoring Summary Report from UNH; the final full report will be available later this spring.
Unlike last year we do not have year-over-year improvement. 2016 was a dry year, but in 2017 we saw much higher precipitation, especially from the snowpack and spring runoff. Short term we see
– lower (worse) water clarity, more like 2015 levels,
– elevated (worse) phosphorus levels,
– elevated (worse) chlorophyll levels
– no dissolved oxygen at the bottom at the deep site
Longer-term over the past 35 years of monitoring,
– water clarity is increasing
– phosphorus levels are increasing
– chlorophyll levels are relatively stable
– color, naturally-occurring "tea" color substances such as plant & soil materials breaking down, is increasing.
These long term trends do not necessarily mean current levels are at historical highs, but show an upward trend when graphed over several decades.
Many/most of the lakes in our area showed a clear pattern of higher  phosphorus, chlorophyll, and color concentrations and reduced water transparency. The 2017 results are tied to the timing and intensity of water last spring: heavy spring runoff from an atypically heavy spring snowpack accumulation followed by a wet spring with heavy rains in April, May and June.
Phosphorus concentrations increase when more overland runoff picks up debris and pollutants, and as a result of human influence when landscapes are incorrectly disturbed or not properly maintained. Runoff, erosion, and bare soil are not lake friendly.
Other lakes also saw historically high chlorophyll numbers in 2017, much of it associated with the weather. Bob Craycraft at UNH points out "more exposed soil and other nutrients (from fertilizers, septic, etc.) exacerbate the short-term problem." With the increased storms and runoff this year, our algae populations may have responded to higher phosphorus levels near the surface. The danger of increasing chlorophyll spread throughout the water column is an increased possibility of algae blooms.
Increased color is typical with wetter weather, especially in lakes with more wetland drainage such as Lake Kanasatka. Increased color is not a problem by itself, but combined with the high chlorophyll levels, typically means less light penetration and reduced water clarity.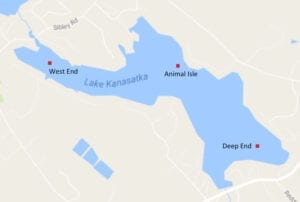 Craycraft notes "following these atypically wet seasons, some lakes recover the following season….but unless there was unusually high erosion or nutrient loading, lakes typically recover." Historically our data show these recoveries after wetter years. (The October storms were twice the 35 year average.)


Recommendations include implementing Best Management Practices to control runoff and erosion within our entire watershed. For more information on how we can all reduce detrimental nutrient loading on our lake, refer to "Landscaping at the Water's Edge: An Ecological Approach," "New Hampshire Homeowner's Guide to Stormwater Management," and other shoreland protection materials.
Additional tips include:
– survey your property for erosion and make repairs before the next storm. Some local landscaping companies can help with erosion management, and helpful information is available online at NHlakes.org
– remove leftover sand so it is not washed into the lake by spring rains. Sand is full of phosphorus and leads to aggressive plant and algae growth
– know the rules about removing any size tree, leave stumps and vegetation
– plant shrubs and trees to create a buffer between your property and the water to prevent harmful erosion
– direct runoff into woodland areas where stormwater can better infiltrate into the ground rather than running more directly into the lake
I would like to acknowledge and thank Kevin Kelly for his extensive work with the new water quality monitoring equipment LKWA purchased in 2017. He is sending in valuable data and we are building a database to learn more about various levels on our lake and to monitor longer-term trends at any site.
A full report on the lakes water quality was given at our July meeting.  You may view a copy of the slide presentation here.
Minutes of Previous Meetings