Established to promote the conservation of the quality of the environment of the area in the watershed of Lake Kanasatka, including the conservation of the natural resources of the land, water, marshland, woodland and open spaces, as well as the plant and animal life therein, and the protection of the water quality of Lake Kanasatka and its tributaries against pollution.
The Kilnwood Loon Web Cam 
The Kilnwood loon cam is again in operation.  Kilnwood resident Allen Rapp has a web camera on the shoreline of his property next to Camp Hawkeye on DeerHill.  The camera is trained on the loon platform. You may view the Web Cam Here.

To Lake Kanasatka Watershed Association members: 
It is with disappointment that I must announce the Annual Meeting of the LKWA scheduled for Jul 11th at the Moultonborough Library needs to be cancelled. The library has informed us that they are not holding any gatherings there this summer and I imagine any other venue that can accommodate will have the same outcome if we try and relocate.  The board is hoping our meeting can be rescheduled sometime before summer is over. Time will tell.
In the meantime, the board is looking at other possible options to conduct its annual business meeting with membership voting as in the past. I am sorry this is happening, but it is simply out of our control. 2020 has not been a normal year.
Please watch here, Facebook and Instagram pages for any new developments as the summer goes forward. And if anyone has concerns please do not hesitate to reach out to me or any board member; we are all committed for the betterment of Lake Kanasatka.  Thank you for understanding.
Sincerely,
Kirk Meloney
President, LKWA
kirk.meloney@gmail.com
NHDES Wants Residents to Take Care of Their Septic Systems 
Concord, NH – The New Hampshire Department of Environmental Services (NHDES) urges residents to be cautious with the use of strong antibacterial cleaning materials and disposing of those materials in septic systems. Introducing large volumes of these cleaning agents to septic system can have detrimental effect on the bacteria that are vital to the function of a healthy system. Without the essential bacteria in a septic tank and/or in the effluent disposal area (leachfield) the system will prematurely fail resulting in the system having to be replaced. Replacing a system in failure can be a very expensive undertaking that could be avoided with careful and proper use.
NHDES has noticed increased percentage of applications to replace failed individual sewage disposal systems (septic systems) over that last few months as compared to 2019. During the spring months, NHDES normally receives higher numbers of applications for the replacement of failed systems most likely due to amount of rain and snow melt. However, this year due to the coronavirus pandemic, many people are now working remotely from home. A hydraulic overload on systems (too much water) resulting from the increased use of home septic systems may be contributing to the increased number of failures. Equally important to consider is the disposal of strong cleaning materials in septic systems. The Centers for Disease Control and Prevention, and the New Hampshire State Government encourage regular personal hygiene and extensive cleaning of homes and businesses to deter the spread of the virus, but be careful as to the amount of these cleaning solutions go down the drain to your septic system.
If you have not yet, please also read the NHDES Press Release dated March 24, 2020 regarding what materials should and should not be flushed down the toilet. This press release can be found at https://www.des.nh.gov/media/pr/2020/20200324-flush.htm. Additionally, NHDES wants to remind residents that septic tanks should be pumped every three to five years. More information about proper septic system maintenance can be found at https://getpumpednh.com/ .
If you have additional questions, please contact Jim Martin, NHDES Public Information Officer, at james.martin@des.nh.gov or (603) 271-3710.
NHDES freshwater beach monitoring for summer 2020 bathing season
Concord, NH – As the beaches at the state's freshwater lakes and ponds are opening back up, NHDES reminds the public to practice safe swimming and to be vigilant for potential health concerns, such as cyanobacteria. This summer, NHDES will focus on monitoring, assessing and responding to cyanobacteria blooms. The Beach Inspection Program will not be sampling freshwater beaches regularly for fecal bacteria, as it has in the past, due to lab capacity and logistical challenges posed by the pandemic.
The Beach Program will, however, maintain an active monitoring program that will be able to respond in cases when public health risks arise and can ramp up at areas with a history of bacterial problems. Beach owners and municipalities can still collect water samples themselves and submit the samples to a number of available labs for analysis. In addition, illness report forms are available for reporting bathing-related illnesses. The public is encouraged to submit this form to the Beach Program if someone becomes ill after swimming in one of the state's waterbodies. That will help protect all of us.
The public is also strongly encouraged to keep an eye out for cyanobacteria in state waterbodies. As the water temperatures warm, some lakes and ponds may display bright green surface scums or dingy green water throughout the water. These are signs that a cyanobacteria bloom is present.
Cyanobacteria can produce toxins that are harmful to humans, pets and livestock. Toxins can cause acute health effects including irritation of skin and mucous membranes, nausea, vomiting, and diarrhea. In some cases, short term exposure can also result in nervous system interference including tingling, burning, or numbness sensations. Prolonged exposure can also lead to liver or kidney problems.
Cyanobacteria blooms are extremely unpredictable occurring sporadically anywhere or anytime. Therefore, as a precaution, the Beach Program recommends against swimming in areas of lake or ponds with a suspected cyanobacteria bloom and restricting pet or livestock access.
If you see what you believe is a cyanobacteria bloom, please report it via text or phone call to (603) 848-8094 or email to HABS@des.nh.gov. We also ask that you include a photo of the bloom. A response to a reported potential bloom will typically occur within 24 hours. Bloom alerts or lake advisories will be issued following confirmation of the condition and will be posted on the NHDES website.
Seasonal Cleanup and protect our lakes!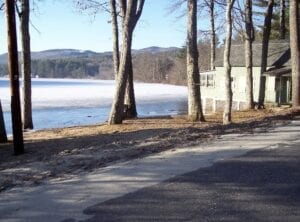 In New Hampshire, we take seasonal and winter storm damage clean-up in stride. If you are looking for an excuse to get outside this spring and enjoy what the season has to offer, here are a few things you can do to clean up your property and protect the health of local lakes, ponds, rivers, and streams…
Sweep your driveway, walkways, and steps to remove leftover sand. Sand used to help keep roadways, driveways, and walkways passable during the icy and snowy winter months can cause serious problems when washed into waterbodies by spring rains. Sand deposited in aquatic environments can destroy fish spawning or nesting sites and sand particles suspended in the water can clog fish gills. Deposited sand also causes waterbodies to become shallower, often facilitating plant and algal growth—while having some plants and algae in a lake is a good thing, too much of either is not good for the health of the lake, or our enjoyment of the lake.
Survey your property for areas where runoff water has caused erosion. Take a walk around your property to see if recent rains have created any gullies or other eroded areas. If possible, fix eroded areas before the next rainstorm occurs. If you aren't sure how to fix an erosion problem, contact a local landscaper or NH LAKES to get pointed in the right direction.
Remove storm debris in accordance with the Shoreland Water Quality Protection Act. If your property is located within 250 feet of a lake or river, downed and damaged trees and trees posing an imminent hazard or threat may be felled and removed. But, be sure to leave the stumps in the ground since stumps do a very good job preventing soil from being eroded off of the landscape and polluting the water (and, it is also illegal to remove the stumps). Trees and storm debris from severe weather events can be removed from waterbodies. If equipment is necessary for the removal of debris from a waterbody, be sure to monitor the equipment for fluid leakage and use temporary work pads to lessen the impacts to the shoreline. The New Hampshire Department of Environmental Services recommends that property owners take photographs of damaged trees and structures for documentation.
For the sake of our lakes—and for my mental health!—I'm looking forward to the next warm day to get outside and clean up my driveway and yard. Are you?
NH LAKES is the only statewide, member-supported nonprofit organization working to keep New Hampshire's lakes clean and healthy, now and in the future. The organization works with partners, promotes clean water policies and responsible use, and inspires the public to care for our lakes. For more lake-friendly tips, visit www.nhlakes.org, email info@nhlakes.org, or call 603.226.0299.
We hope that you will share this article with others—we just ask that you include the following: This article was originally published by NH LAKES. Thank you!
The Lake Host Program
Alert: Help keep our lake waters free of invasive species. Join the Host Program Tracy Waterman, Manager of the Host program for Moultonborough ramps needs workers.
There are two ways to become a Host —become a paid volunteer at rate of $12.56 an hour or be strictly volunteer with more flexible hours. Training requirements can be found here.  Interested! Call Tracy at 603-253-7879 for training  dates or information.
The Lake Host Program is a courtesy boat inspection and education program to help prevent the transport into or out of our waters of aquatic species like Variable Milfoil, Water Chestnut, and Curly-leaf Pond weed and of animal species like Asian Clams, Mystery Snails, and Zebra Mussels. Volunteer Lake Hosts staff Lee's Mills, Long Island and States Landing and soon Lake Kanasatka boat ramps every weekend throughout the summer. This program has seen good results and finds boaters very cooperative. Prevention is key for once invasive species take hold they are very difficult to eradicate. You can help by volunteering for as little as 1/2 a day on a Saturday or Sunday once a month during the summer. Volunteers will be trained by and work with experienced Lake Hosts.
The Moultonborough Milfoil Committee oversees the protection of all the lakes within Moultonborough boundaries. The Lake Host and Weed Watcher Programs come under its jurisdiction. The Town of Moultonborough has taken a proactive approach to protecting all its lakes. It has budgeted as much as $200,000 to keep our lakes free invasive species especially Milfoil by proper use of chemicals and hand pulling. The LKWA has decided to be part of this important program. If you are interested in volunteering to the Lake Host program, please contact Tracy Waterman at Lakehosttracy@gmail.com Tel: 603-986-3384
For any who have sons or daughters looking for jobs the Lake Host under the Moultonborough Milfoil Committee is looking for some students to work at boat ramps around Moultonborough lakes and ponds If interested they should contact Tracy Waterman.
Join Our Weed Watcher Program
The LKWA has decided to take the lead on the Weed Watcher program by volunteering their services this summer. We hope our example will encourage others to do the same. The Weed Watcher Program as described by the Milfoil Committee. "Moultonborough volunteers play a key role in our town's Milfoil Control Program. Volunteers become the "Eyes on the Water" to spot areas of Milfoil growth.Click here for more information on the Weed Watcher program.
Lake-Friendly Living Resources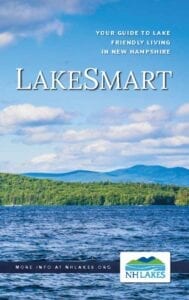 The LakeSmart Book: A guide to clean and healthy lakes! This comprehensive resource includes lake basics, permitting, landscaping, boating and recreation, and tips for living a lake-friendly lifestyle.
NH LAKES has revised and updated this publication last printed in 2016. This is a comprehensive resource for all interested in living a lake-friendly lifestyle here in the Granite State. It includes everything from lake basics like "What is a Watershed? and The Life of a Lake" to detailed information on required approvals and permits including current contact information for relevant state departments and other resources. Other topics include: a list of native plant species to use in your next landscaping project, tips for safe boating and recreation, and how to get involved with lake stewardship!
This book is available as a free download from nhlakes.org or for those who would prefer a hard copy to leave on your table, LakeSmart booklets are available from LKWA.  We will be glad to mail a copy to those who request.  Please contact Kirk at kirk.meloney@gmail.com
Organic Material Discharge into Lake Kanasatka
Many people believe that dumping natural materials into the lake is acceptable. After all, it's all "natural" stuff", right? Well, not so fast. It is actually never OK to discharge or dump leaves, grass, brush, fireplace ashes, or similar waste into the lake.
Here is an recent message from Andy Chapman, Biomonitoring Program, NH Department of Environmental Services (DES). This agency is charged with creation and enforcement of rules on protection of NH lakes, streams and wetlands. Andy says:
"There is language in both the law and water quality standards to address this matter, at RSA 485-A-08 and 12, and Env-Wq 1703.08. Blowing leaves and clippings into the lake adds nutrients, phosphorous and nitrogen can accelerate eutrophication (lake aging). This leads to increased algal blooms, cyanobacteria, decreased lake clarity and dissolved oxygen, impacting aquatic life."
Go here for further information on how organic waste may affect our lake.
The advisory, of course, also applies to landscapers and lawn companies that may assist in keeping our properties clean. Please inform your yard service of the rules so they can help in our efforts.Since the mission of LKWA is to protect the quality of the land, water, marshland, woodland and open spaces of our Watershed, it's critical that everyone pitch in to preserve our priceless natural resource. Please do your part by following this guidance.
Fish Lead Free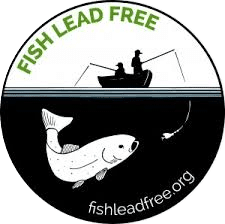 New Hampshire State Law prohibits the use of lead jigs less than one inch in length and sinkers weighing one ounce or less.
Effective June 2016 the sale and freshwater use of lead fishing sinkers and jigs weighing one ounce or less will be banned in New Hampshire. NH LAKES, along with a coalition of groups including The Loon Preservation Committee, help pass this important safeguard to protect our loons and aquatic wildlife.
 Why Fish Lead Free?
Fishing lead free is better for our lakes and our wildlife. Ingested lead fishing tackle is the leading cause of death for adult Common Loons, but also affects many other species of wildlife in New Hampshire.
Angler's Guide to Lead-Free Fishing
Non-toxic tackle comes in many metal choices and modern metal alloys offer the angler a number of advantages
They are environmentally safe

They have more sound producing qualities to call in those fish and up your catch

Tungsten, is more dense and hard than lead, and allows the angler to "feel" the bait more effectively which in turns helps the angler feel the bite

Any zinc-containing fishing tackle is not recommended because it is also toxic to wildlife
For information on where to buy lead free fishing tackle and where to dispose of lead tackle in New Hampshire, visit fishleadfree.org/nh/
About Fish Lead-Free
Fish Lead-Free is a regional initiative to help anglers switch to lead-free tackle. To find out laws, where to buy lead-free tackle, and where to dispose of tackle in your region, visit www.fishleadfree.org.
Are you a member of the LKWA?
We would welcome your continued membership in our organization to insure our future success. Click here to renew or add your membership to our organization for the amount of $25 and send your contact information details to the Lake Kanasatka Watershed Association. If you have any questions please email us at info@kanasatka.org
As you know our mission is preserving and protecting our cherished lake. Our Lake Kanasatka water sampling program, in concert with the University of New Hampshire, monitors the health of our lake. This is our largest expense. We also host our July business meeting  and have our annual social potluck luncheon/meeting in August. Annually we have contributed to three local conservation organizations, the Loon Center, the Lake Region Conservation Trust and the NH Lake Association. We help fund the Kanasatka loon nesting platform effort and were disappointed this year with the loss of our two chicks. All of our efforts are enhanced and documented via our website and facebook page. We as an organization would like to continue all of these efforts and can with your continued support.
We would welcome the continuation of your support towards supporting our mutual goal, the preservation of our lake.
Are you on our mailing list?
Click here to fill out our online form.