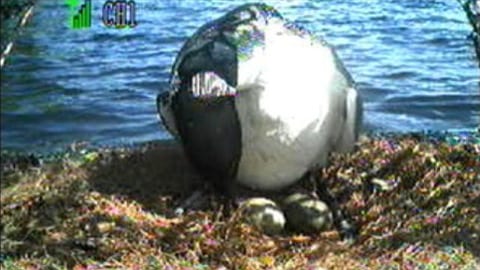 Loon Nesting
Nesting History
The LPC has recorded nesting loons at Kanasatka and Wakondah in most years since monitoring began in the 1970's. In the 1980s and 1990s Kanasatka loons used an artificial nest raft in what we call Bibler's Cove, about 200 meters southwest of the Kilnwood docks. Thick lily pad and rush cover has encroached on the old raft site there, and the raft has been floated in a new location in the small cove on the west end of the Kilnwood dock since 1999. The raft has not been used by the loons in this new spot. In cooperation with volunteers on the lake, LPC plans to replace the existing raft with a new one in 2008, and relocate it to a different cove. This site should provide better access to the raft for the loons, slightly less human activity, and should be easier to protect with signs and floatlines.
Report on Loon Nesting
The Loon Preservation Committee offers the following summary of Lake Kanasatka and Wakondah Pond loon nesting activity and nest raft use.
Nesting Data
"The Loon Preservation Committee (LPC) is dedicated to sharing information about New Hampshire's loon population with the interested public, but is generally unable to accommodate requests to distribute monitoring data on individual lakes. The Kanasatka loon record is an exception and has been provided by LPC to the LKWA website on a trial basis."
This data reflects what the LPC has documented. Local observers may have more information or may be able to fill in some of the unknowns. If you have any comments or additions please contact Staff Biologist John Cooley at the Loon Preservation Committee (603) 476-5666 or jcooley@loon.org
Loons and People: A message from Harry Vogel
The best protection for those chicks is to keep too many people from getting too close to the family for too long. Hard to do because everyone is excited about the big event, but the care and feeding of loon chicks is a full-time job for both of the parents, so they should not be spending their time and energy swimming away from boats.
My standard advice to boaters is if you want to get close to loons, especially loons with chicks, buy a good pair of binoculars. Loons can be quite curious birds, and if they swim close to have a look at you, by all means enjoy – but no chasing loons around the lake! Judy Silverberg at NH Fish & Game said it best I think – any time you've caused a wild animal to change its behavior, you've had an impact on that animal. The firstborn chick will generally be the first to be fed, and if we give the birds enough space then the second chick will also get enough food to survive and grow and fledge before the ice closes in. It's great to see loon chicks on Kanasatka again – I hope they survive and thrive, and I hope they are the first of many more to come!
Harry Vogel, Biologist
The Loon Preservation Committee
Suspect Cause of Nest Failure
The comments in the chart refer to data based on condition of eggs and nest:
Unknown — cause unknown
Avian predation — characterized by a small hole in the egg.
Mammalian predation — characterized by smashed eggs/eggshells, tracks around nest.
Unknown predation — predation source could not be determined.
Loon disturbance — loon intrusion
Human disturbance — human intrusion, human related activities. (Also includes pets.)
Water level rise — increase in lake level causing nest floods. Eggs washed off nests, or eggs still in nest, chilled in standing water.
Water level fall — decrease in lake level causing eggs to be stranded in unreachable nests.
Lake Kanasatka Nesting
Year
Paired Adults
Unpaired Adults
Nesting Pairs
Nest Site
Nest Attempts
Chicks Hatched
Chicks Survived
Suspect Cause
2019
2
0
1
raft
1
2
1
2018
2
0
1
raft
1
1
1
2017
2

1

0

-

0

0

0



2016
2

1

1
raft

1

2

1



2015
2
2
1
raft

1

1

0



2014
2
0
1
raft

1

1

1



2013
2
0
1
raft

1

2

2



2012
2
1
1
raft

1

1

1



2011
2
0
1
raft

1

2

0



2010
2
0
1
raft

1

2

1



2009
2
1
0
-

0






2008
2
1
1

raft

1

2

0



2007
2
1
0
-

0






2006
2
1
0
-

0






2005
2
1
1
island
1
0
0
loon

disturbance
2004
2
0
1
marsh
1
1
1


2003
2
1
1
shoreline
2
0
0
human

disturbance
2002
2
2
0
-

0






2001
2
0
1
shoreline
1
0
0
mammalian predation
2000
2
0
1
shoreline
1
0
0
unknown predation
1999
2
0
1
marsh
2
0
0
mammalian predation
1998
2
0
1
shoreline
1
0
0
waterlevel rise
1997
2
0
1
island
1
0
0
unknown predation
1996
2
1
1
island
1
0
0
unknown cause
1995
2
4
0
-

0






1994
2
0
1
shoreline
1
0
0
mammalian predation
1993
2
1
0
-

0






1992
4
1
1
raft
1
2
0


1991
2
0
1
shoreline
1
2
1


1990
2
0
1
raft
1
1
1


1989
2
0
1
raft
1
0
0
loon

 disturbance
1988
2
0
1
unknown
1
2
2


1987
2
0
0


0






1986
2
0
1
raft
1
1
1


1985
2
0
1
raft
1
2
1


1983
2
1
0
-

0






1982
2
1
0
-

0






1981
2
3
0
-

0






1980
2
0
1
raft
1
2
2


1979
2
0
1
unknown
1
1
1


1978
0
1
0
-

0






1977
2
0
0
-

0






1976
0
1
0
-

0






1975
0
1
0
-

0






Wakondah Pond Nesting
Year
Paired Adults
Unpaired Adults
Nesting Pair
Nest Site
Nest Attempts
Chicks Hatch
Chicks Surviving
Suspect Cause
2019
2
0
1
raft
1
1
1
2018
2
0
1
raft
1
2
1
2017
2
0

1

raft

1
0

0

mammalian predation
2016
2
0

1

raft

1
1

1



2015
2
0

1

raft

1
2

2



2014
2
0

0

-

0






2013
2
0

1

raft

1
1

0



2012
2
0

1

raft

1
1

0



2011
2
0

1

raft

1
0

0

unknown

2010
2
0

0

-

0






2009
2
0

1

raft

1
1

1



2008
2
0

1

raft

2
1

0

blackflies

2007
2
0
1
raft
1
2
2


2006
2
0
1
raft
1
0
0
unknown
2005
2
0
1
raft
1
0
0
mammalian predation
2004
2
0
0


0






2003
2
1
1
raft
1
0
0
unknown
2002
2
0
1
raft
2
1
1


2001
2
0
1
raft
2
2
2


2000
2
0
1
raft
1
1
1


1999
2
0
1
raft
1
1
0


1998
2
0
1
raft
1
1
0


1997
2
0
1
raft
1
0
0
unknown
1996
2
0
1
raft
1
1
1


1995
2
0
1
raft
1
2
2


1994
2
0
1
raft
1
2
2


1993
2
0
1
raft
1
2
2


1992
2
0
1
raft
2
1
1


1991
2
0
1
raft
1
2
2


1990
2
0
1
raft
1
1
1


1989
2
0
1
raft
1
0
0
human

disturbance
1988
2
0
1
raft
1
2
2


1987
2
0
1
raft
1
1
1


1986
2
0
1
raft
1
2
2


1985
2
0
1
raft
1
2
2


1984
2
0
1
raft
1
1
1


1983
2
0
1
unknown
2
2
2


1982
2
0
1
unknown
2
1
1


1981
2
0
1
unknown
2
2
1


1980
2
0
1
raft
1
1
1


1979
2
0
1
raft
2
0
0
unknown
1978
2
1
1
unknown
1
0
0
unknown
1977
2
0
1
unknown
1
1
1


1976
2
0
0
-

0






1975
2
0
1
unknown
1
1
1