[metaslider id="260″]
The Moultonboro Weed Watcher Program
Why is it important to Lake Kanasatka. Prevention is the KEY The Weed Watcher Program is the first line of defense in preventing invasive specie from taking hold in Lake Kanasatka. Once invasive species plant or animal take hold they are difficult if impossible to eradicate. Once established they quickly take over a lake and ruin it for swimming and boating and cause depreciation in property values. Caught in early stages eradication is much more likely. 

Weed Watcher Program
The LKWA has decided to take the lead on the Weed Watcher program by volunteering their services this summer. We hope our example will encourage others to do the same. The Weed Watcher Program as described by the Milfoil Committee. "Moultonboro volunteers play a key role in our town's Milfoil Control Program. Volunteers become the "Eyes on the Water" to spot areas of Milfoil growth. If interested in volunteering you will be Instructed on what to look for and how to conduct a weed survey. Volunteers will also receive a binder full of information on the program and details on the most threatening invasive plants. There is no cost to the volunteer. The only equipment a volunteer needs is access to a boat, kayak, canoe, paddle board, or PWC."   Lake Host and Weed Watcher Programs work together to prevent invasive species from entering our lake. The Weed Watcher Program may be even more important to preventing Lake Kanasatka from becoming infested because of volunteers constant vigil that is likely to catch infestation before it can take hold.  If you are interested in volunteering for the Weed Watchers program, please contact Tim Baker
Why should I Volunteer to be a Weed Watcher
Your work could save Lake Kanasatka and your property values……
1. While you are kayaking, canoeing, paddling all you need is to check an area once a week or month from June thru September.
2. If you find a suspicious plant, you give it to Bev Nelson Chair of Moultonboro Weed Watcher Program. She will confirm whether it is invasive or not or she will send it for DNA analysis.
3. There is no cost to you and training and support will be provided. Now what could be easier?
4. Your work could catch an invasive specie before it got a chance to get established.
5. Your work with so little effort can protect Lake Kanasatka and save your property values.
For more about the Moultonboro Weed Watching Program take a look at their informative booklet.
Resources
Plant Information
What to do if you suspect an algae bloom on Lake Kanasatka:
Notify board members and water quality chair (their email addresses are available here) with the following information:

Location of the suspected bloom on the lake (be specific…address, landmarks, etc.)
Approximate size
Anything noteworthy – when you noticed it, how long it has been there, has it changed, what it looks like (provide photos if possible)

Water quality chair will assess and notify both NHDES and UNH Lakes Lay Monitoring Program
If NHDES or UNH are not readily available, water quality chair or designee will visit site, take photos, note size, and collect a sample in a 125ml or larger container. Sample will be kept refrigerated and delivered to NHDES or UNH same or next day
Water quality chair or designee will follow up with residents and members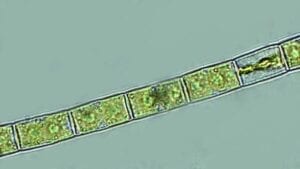 Other "bloom" complaints -Non-cyanobacterial

• Most common- filamentous green algae such as Mougeotia or Spirogyra.
• Sometimes appear slimy, foamy, bright green-yellow
• Slimy mats or clumps can surface or hover in the water column, just beneath the surface.
• Also found along the shoreline or in shallow water.
• Mats can contain a diverse range of other organisms including phytoplankton (sometimes a few strands of cyanobacteria), protists and zooplankton mixed within it.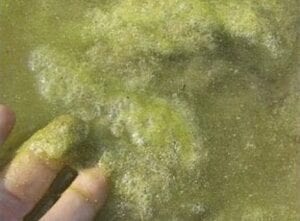 Try the Stick Test:
1. ) Find a sturdy stick
2. ) Stick it into the floating substance and slowly lift it out of the water
3. ) If the stick pulls out small strands that look like green hair or threads, the mat on the pond is filamentous green algae. Although filamentous green algae can be a nuisance when over-abundant, they do not pose a danger to your health.
Here are some examples of Algae Blooms found in NH lakes.